Category: Diet Pills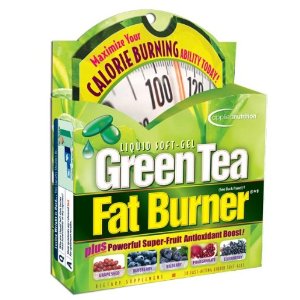 There are so many fat burning products available in the market that it becomes difficult to decide on what is the right product for you. Before we go into the review of the product let us understand what Applied Nutrition Dual-Action Green Tea Diet Liquid Fat Burner Gel Capsules does. Here is the manufacturer's description of the product:
The liquid gel content in the capsule helps in quick absorption of nutrients and is at least two times better than other dry capsules or tables.
The Dual-Action Green Tea diet not only supplies the body with the required nutrients but it also helps in weight loss.
The green tea extracts is particularly beneficial as it helps in speeding the fat burning process of the body called thermo genesis.
Another important ingredient found in the product is Chromium Picolinate which facilitates the conversion of sugar into energy. This energy is used by the body to create lean muscles that help in burning fat even when you sleep.
Applied Nutrition Dual-Action Green Tea Diet Liquid Fat Burner Gel Capsules also contains Xenedrol which is a blend of 6 nutrients that is used to curb appetite and burn fat.
Advantra Z® is a patented product found in these capsules that is known to burn fat and curb the appetite of the person who uses these capsules.
Review
When I checked the ingredients of the product, I was happy that most ingredients used to make the capsule had some health benefits. Here are some ingredients that I found particularly useful in the product. One of the most important ingredients used in the product is Green Tea.
People, who want to lose weight quickly, usually search the internet for products that can make them thin instantly. There are many companies that try to lure customers by announcing free trial offers of products that can make them thin. Better Business Bureau of Acadiana has recently come out with a warning for consumers asking them to avoid all free announcements of trial offers for online diet pills. This warning comes after the Federal Trade Commission (FTC) filed law suits against companies that offer free acai berry weight loss products.
FTC filed these lawsuits after it found that many websites sell pills by imitating websites of popular companies. According to FTC, there are many websites that have reports that do independent evaluation of products for the websites and claim that their product is the best. These websites claim that their products are superior to other products because they can help people lose weight instantly without any exercise.
Usually, the analysis of the reports is deceptive advertising used by companies to sell their products. There are many companies that place their links on third-party websites to lure consumers into buying their products.
Today, there are many popular new websites that have ads of companies that sell acai berry products. According to sources, these news companies have received more than 10 million dollars from health care companies to advertise their fake news. At times, health care companies also pay these fake news companies commissions on products sold.
However, fighting companies that use deceptive advertising to sell their products is getting difficult by the day. Just when one company is stopped from advertising their products, a new company starts advertising their products and cheating innocent consumers.
Therefore, before you sign-up for a trial offer, make sure you check the fine print and make sure you check the company details with the BBB. If you are careful, you can save both time and money as many companies will keep charging your credit card if you take-up their trial offer. If the trial offer of the company sounds too good to be true; there is a high probability that there is something fishy about the offer.